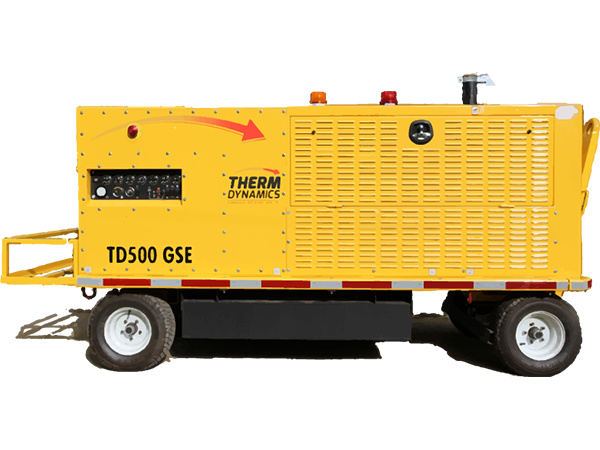 TD 500-GSE Flameless Heat Cart
575,000 BTU'S

5,000 CFM

CO Detection

Narrow to Wide Body Aircraft
The TD500-GSE Flameless Airline Heat Cart represents over 14 years of field experience, operating 24/7 in extreme conditions in the Gas & Oil Industry. The same safe, flameless heat technology demanded by insurers and site safety managers in these "extremely explosive environments" is now available for the airline industry.
Stand-Alone Flameless Airline Heat Cart
The TD500-GSE is compact, completely portable and safe - providing clean dry heat for aircraft, hangers and ground support equipment. It represents the next generation in portable heat technology.
View TD500-GSE Flameless Heater PDF Brochure
Features:
RELIABLE - 14 years of proven performance in the harshest conditions.
SIMPLE - Few moving parts and intelligently designed.
EFFICIENT - Huge, real fuel savings versus indirect fired flamed heaters. (40%)
SAFE - Flameless heat is captured from the gasoline engine and a patented low pressure hydraulic fluid heat plate.
CERTIFIED - CSA/UL certified.
Meets or exceeds OSHA, MSHA and API standards.
DURABLE - Expectations are for over 12,000 hours of dependable service.
 Performance:
Fuel: Gasoline
Max BTU Output: 575,000
CFM: 5,000
Static Pressure: 20.0" (inches)
Temperature: 180 degrees F
Max Fuel Consumption: 4.3 GPH
POWER PLANT: Tomadur Industrial 6 cylinder 4.9 liter
Dimensions:
Weight, empty: 3,750 lbs.
Height: 63"
Width: 48"
Length: 107"
FUEL CAPACITY: 78 gallons
Applications:
Heating for aircraft cabins, fluid lines and luggage bays. Preheat aircraft engines and ice removal on jet turbine blades. Heating for remote, "off gate" aircraft, ground support equipment and facilities to improve productivity and work place safety.
Aircraft deicing.
Hanger heating while servicing aircraft and other GSE equipment. Moisture drying and ice melting of luggage bays, maintenance facilities and ground equipment.
Highlights:
Easy access to all maintenance components and minimal operation supervision.
Low humidity, high CFM for drying.
Reduces relative humidity.
Clean, uncontaminated air output improves working environment.
No carbon monoxide poisoning risk.
Thermostat controlled operation will improve fuel efficiency.
Halliburton, Conoco, Exxon, Shell, BP and Anadarko currently utilize our heaters in their fleet. Safe, flameless heat. Eliminates all risk of fires.
Proudly made in Tea, SD USA
Options:
Available options include custom paint, ducting, ducting storage, recirculation inlets, operational strobe light, emergency shut-down button and many more.