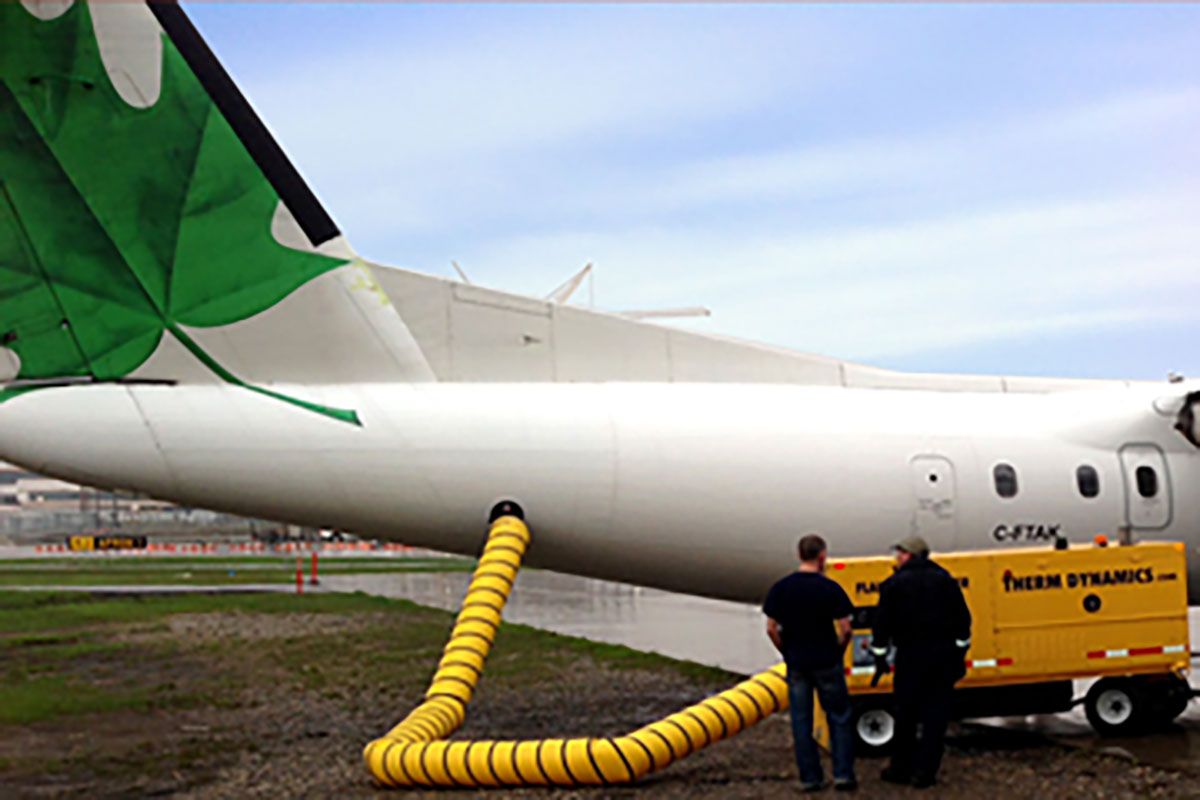 Major airlines are in need of an efficient way to heat commercial airplanes while they are sitting on the tarmac. That's when they turn to Therm Dynamics for a thermal heater. At Therm Dynamics, we specialize in leading the airline industry in flameless heaters for airlines. The airline industry is the fastest growing industry in the ground support equipment flameless heater market and is continuing to grow with Therm Dynamics.
Ground support equipment (GSE) flameless heaters for airline heating is the safest way to heat an aircraft while sitting on the tarmac with safe, breathable air. Whether it be for passenger use or commercial freight use, thermal flameless heaters are reliable heaters and safe heaters that are sure to heat an aircraft without any open flame or CO gas emissions.

Therm Dynamics is working with the top airline companies to develop ground support equipment airline heaters that are tailored to their thermal heating needs. Our partner airline companies are the leading airlines across the globe in the airline industry for both customer service and flying. Flameless heaters for airplanes are the perfect investment whether you rent or purchase. Not only will customers be happy but so will the airline's crew.
Our engineers work with you to find the right ground support equipment flameless heater for your aircraft or to customize a flameless heater airline heater for you. Flameless heaters from Therm Dynamics flameless heaters are reliable heaters that help keep cabins, cockpits and passenger areas warm and comfortable while sitting on the tarmac during extremely cold weather. Therm Dynamics flameless heaters are the most reliable heaters for commercial aircraft. Our flameless aircraft heaters produce breathable, carbon monoxide free air, and provide substantial savings in fuel for any airline. Ground support equipment airline heaters are also very portable and convenient thermal heaters to use in a variety of locations.
AIRLINE HEATERS USE
At Therm Dynamics, we specialize in many different thermal flameless mobile heater models that can be tailored to suit your industry's needs. All of our flameless heaters are safe and easy to operate. Our thermal airline heaters will preheat engines, deice wings, thaw frozen hydraulics/fluids and can function as a portable maintenance station with reliable heaters, high-temperature spot heat and a generator to run tools in extreme conditions.
Our top selling flameless heaters designed specifically for airline heating are the following:
Uses for flameless heaters when heating aircraft:
Heating aircraft cabins
Heating fluid lines
Heating luggage bays
Heating for remote, 'off gate' aircrafts
Heating ground support equipment and facilities
Aircraft deicing
Our airline heaters are designed to help heat aircraft hangers and help pre-heat aircraft while sitting on the tarmac. Flameless heat can heat an enclosed aircraft without the risk of an open flame or the excessive moisture and humidity that is produced by other types of heaters. Flameless heat is delivered in a compact, mobile heater trailer that is designed for airport use. All of our airline heaters are made from durable materials including heavy-duty steel construction inside and out. With large doors on the outer edges, maintenance and operation are easy to navigate.
Therm Dynamics flameless heaters used in the aviation industry are certified to CSA/UL standards.
Contact Frend Therm for more information on airline heaters and to get your mobile heater today!