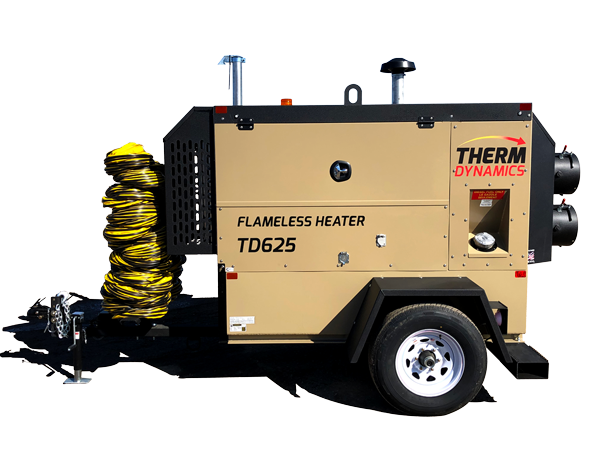 TD625 Flameless Heater
600,000 BTU'S

5,000+ CFM

3.25" Static Pressure
No Flames. No Fumes. No Fuss. Just Heat!
Ideal for applications where an open flame or spark-risk is out of the question; the TD625 excels at providing 625,000 BTUs of clean, dry heat.
Our patented technology uses diesel power to agitate hydraulic oil in a flameless, sparkless, low-pressure environment. We convert engine radiant heat, exhaust heat, and hydraulic fluid heat into a clean, humidity-free, toxin-free heat output that is produced with no friction or flame.
Safety features are incorporated to protect the investment of your Therm Dynamics heaters. All heaters are equipped with a set of four shut-off switches that terminate the engine when excessive pressures, speed or water temperatures are detected. This unit meets or exceeds OSHA, MSHA, and API standards for use in most areas.
CSA/UL and DMA approved. CERTIFIED TO CSA B 140.8.1967 & UL733-1993 REPORT NUMBER: 489-D-01-2
View TD625 Flameless Heater PDF Brochure
FEATURES:
RELIABLE - 14 years of proven performance in the harshest conditions.

SIMPLE - Few moving parts and intelligently designed.

EFFICIENT - Huge, real fuel savings versus indirect fired flamed heaters. (40%).

SAFE - Flameless heat is captured from the diesel engine and a patented low-pressure hydraulic fluid heat plate.

CERTIFIED - CSA/UL certified. Meets or exceeds OSHA, MSHA and API standards.

DURABLE - Expectations are for over 12,000 hours of dependable service.
 PERFORMANCE:
Fuel: Diesel #2

Max BTU Output: 625,000

CFM: 4,500+

Static Pressure: 3.25" lbs.

Temperature: 180°F

Max Fuel Consumption: 4.9 GPH
POWER PLANT:
DIMENSIONS:
Weight, empty: Approximately 4,420 lbs.

Weight, full: Approximately 3,720 lbs.

Cabinet height: 6'6"

Overall length: 12'4"

Overall width: 5'6"
FUEL CAPACITY:
100 Gallons

200 Gallons Optional
APPLICATIONS:
Our versatile, portable heaters can be used in hundreds of applications including thawing frozen ground, heating buildings or structures, curing concrete, drywall/paint drying and removing excess moisture to inhibit mold growth and any other application that requires clean, dry, flameless heat.
HIGHLIGHTS:
Easy access to all maintenance components and minimal operation supervision.
Low humidity, high CFM for drying. Reduces relative humidity.
Clean, uncontaminated air output improves working environment. No carbon monoxide poisoning risk.
Thermostat controlled operation will improve fuel efficiency.
Halliburton, Conoco, Exxon, Shell, BP and Anadarko currently utilize our heaters in their fleet.
Safe, flameless heat. Eliminates all risk of fires.
Proudly made in Tea, SD USA
OPTIONS:
Available options include custom paint, ducting, ducting storage, recirculation inlets, operational strobe light, emergency shut-down button and many more.